From Aussie

Austin

, September 2007
B.S.A.Co. – Office Paperweight.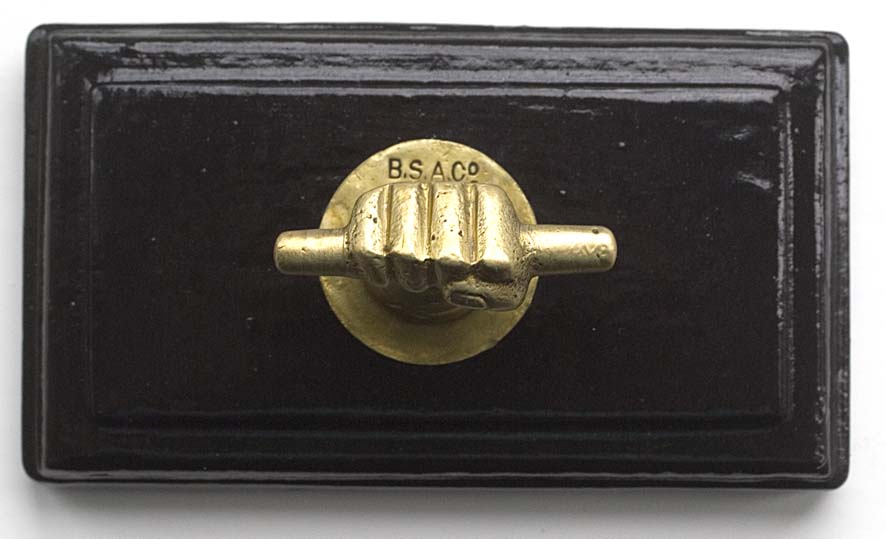 I have taken advice from various folk, including a retired Anglo American executive, and others….. and it seems that to modify this piece of 100+ year old memorabilia (as described in my earlier entry for it) would not really be antiquatarially helpful in 1000 years time or so. I agree – and so I have restored it to as close as how it was when it came into my possession. Please see the latest picture showing the base in black.
There are only two historical issues missing concerning my acquisition of this item and which now might be useful (even appropriate) to reveal. These are as follows:-
G H Hitching

– was the name written on the underside lino backing when it first came into my possession – I have now replaced that lino backing in the rehabilitation process of this historical item. George Harry Hitching (Titch – to Head Office wallahs) died in Capetown some years back, I believe. I regard this BSACo paperweight as a memorial to "Titch".

Tjeeerrrs Titch.
O C Blignaut

- I came about this item whilst in HO with, inter alia, Ocky Blignaut. I was in Technical Branch (Tariff) – whilst Ocky was in Admin Branch (Audit)….. where Titch also worked as a supernumery.

Anyway, one day I visited Ocky in Audit and noticed he had "acquired" two of these paperweights and which he regarded as his own personal property. Having established that they were no longer recorded on the Movable Assets Register, I

told Ocky that I required one of them for my own use in the Technical Branch. He told me that BOTH of them were his. I said that I would correct the situation; and subsequently I did just that….. (and it pissed him off).

I record this incident to the m

emory of the late Ockert Cornelius Blignaut. Tjeeeeerrrs, Ocky.